I had a very sweet week so far. One of my fall themed photo was unanimously chosen to be the cover photo by the Ottawa Wedding Magazine's panel to represent its  2012 Fall/Winter Edition. I couldn't be happier! It was my very first time to submit any photo to a magazine and I feel very humble to represent the magazine for its Fall/Winter Edition. This photo bellow was chosen  from hundreds of other images submitted by other photographers.
I was also very happy to see that Sarah & Maroun's wedding got featured in the Real Weddings Section on page 30-31. 
I feel pretty happy and humble and it is very sweet to know that  my photo made it to be the cover photo but also  another beautiful wedding of mine got  featured in this lovely Ottawa Wedding Magazine!
Please see Darla and Mike's beautiful and unique wedding photos Here.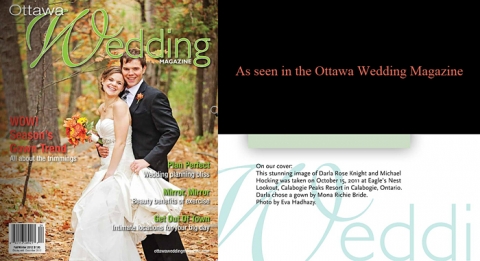 Please see their full wedding post on my blog Here.